Klarus E2 1600 Lumens EDC Pocket Flashlight
1055 Low stock (27 pieces remain) will be shipped within 12 hours
DescriptionKlarus E2 all-round portable flashlight. It is an upgraded version of E1, which greatly improves the brightness and battery life. The E2 has a direct charging function and adopts the...
Description
Klarus E2 all-round portable flashlight. It is an upgraded version of E1, which greatly improves the brightness and battery life. The E2 has a direct charging function and adopts the fifth-generation dual switch of Keritz, which can be used in any occasion. Nano-aluminum alloy material, lightweight design, comfortable and willful handshake, when you travel anywhere outdoors, this mini tactical flashlight is your emergency must-have. It has a tactical mode (one-click Strobe) designed for emergencies, which is very suitable as a self-defense tool for women or the elderly. You can give it as a gift to relatives and friends to make them go home brighter and safer at night
High Lumens LED Flashlight: Maximum output up to 1600 lumens, beam reach up to 190m(623ft), max 168 hours runtime. 6 lighting modes(High/Medium/Low/Moonlight/Strobe/SOS) fit for most using demands.
Floodlight & Spotlight Combination: Klarus new UDL Dual-Focus Lens, 2 in1 Flood, and Beam patterns, you will get clear near view and long-distance illumination.
Tail Dual-Switch: One-touch High/one-touch moonlight/one-touch Strobe. The fifth-generation Tail Dual-Switch, the unique patent of Klarus, better ergonomics, gives you quick control to light up when in dark.
2 Programmable Modes: Outdoor/Tactical dual modes, one-touch moonlight/one-touch Strobe for the mode button, versatile for all demanding situations.
Reliable Structure: Aluminum 6061-T6 with a Mil-Spec HAIII anti-abrasive and anodized finish. Impact-resistant up to 1 meter and waterproof up to IPX8 standards.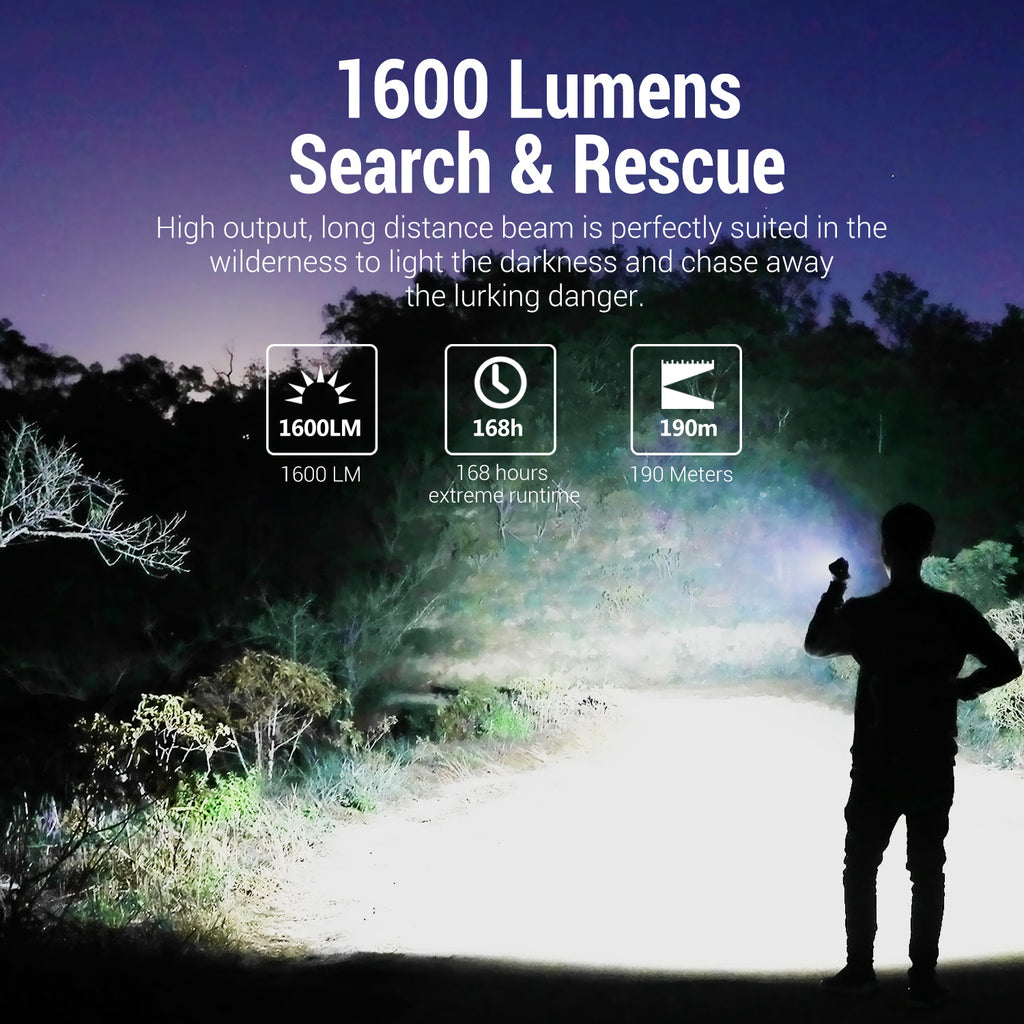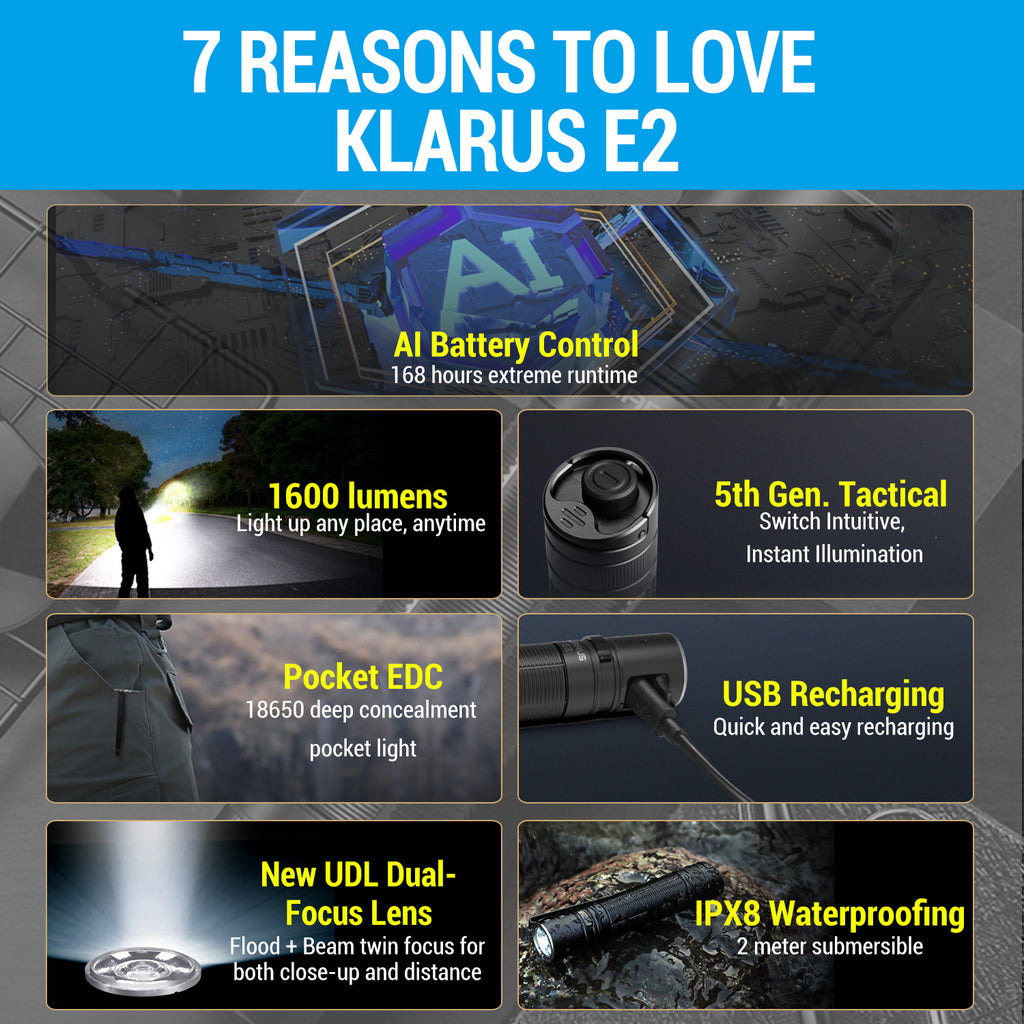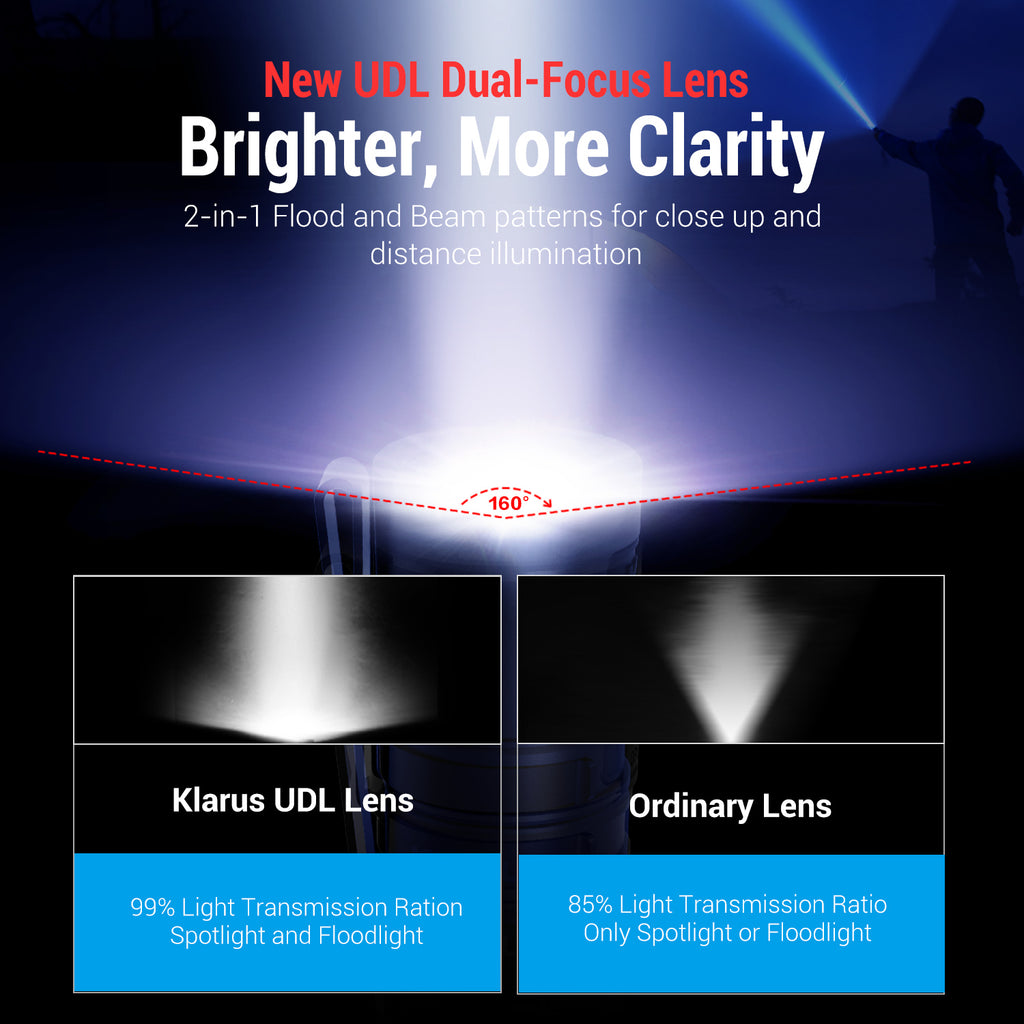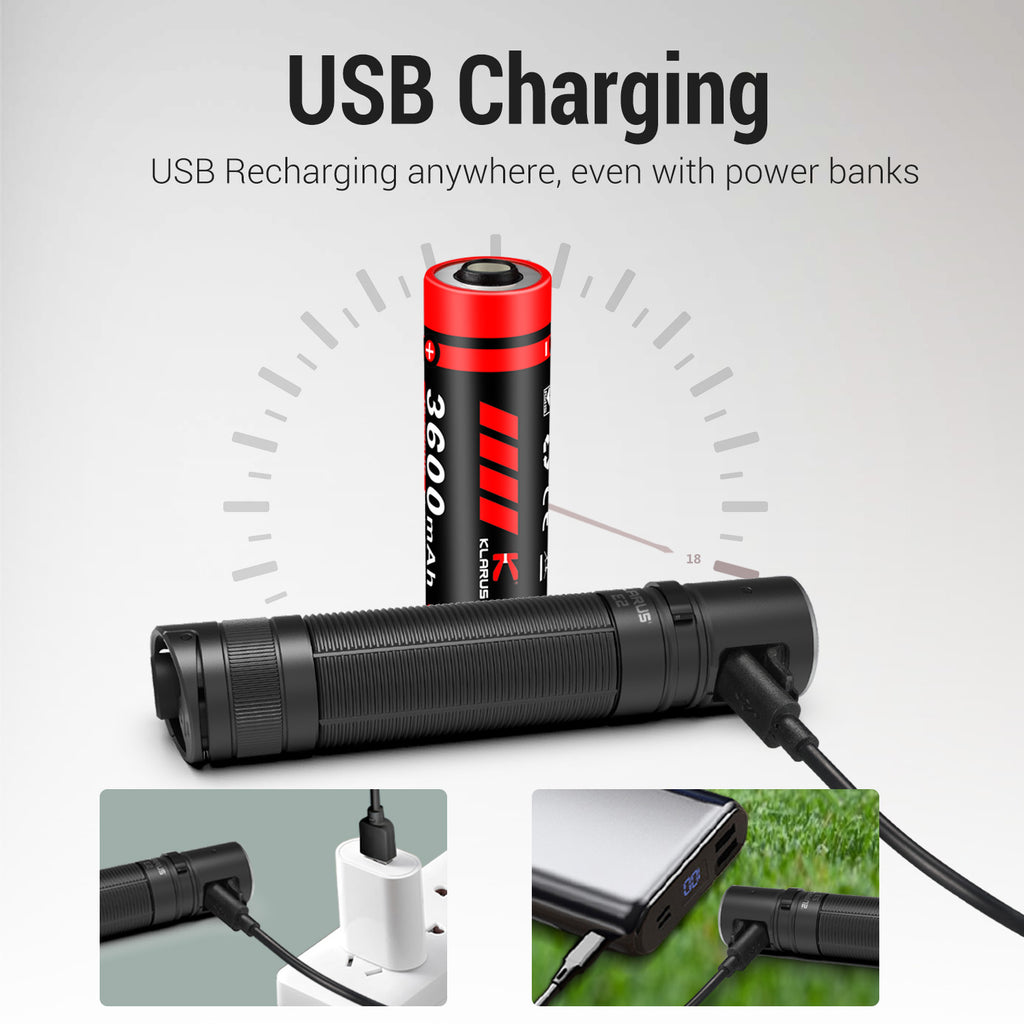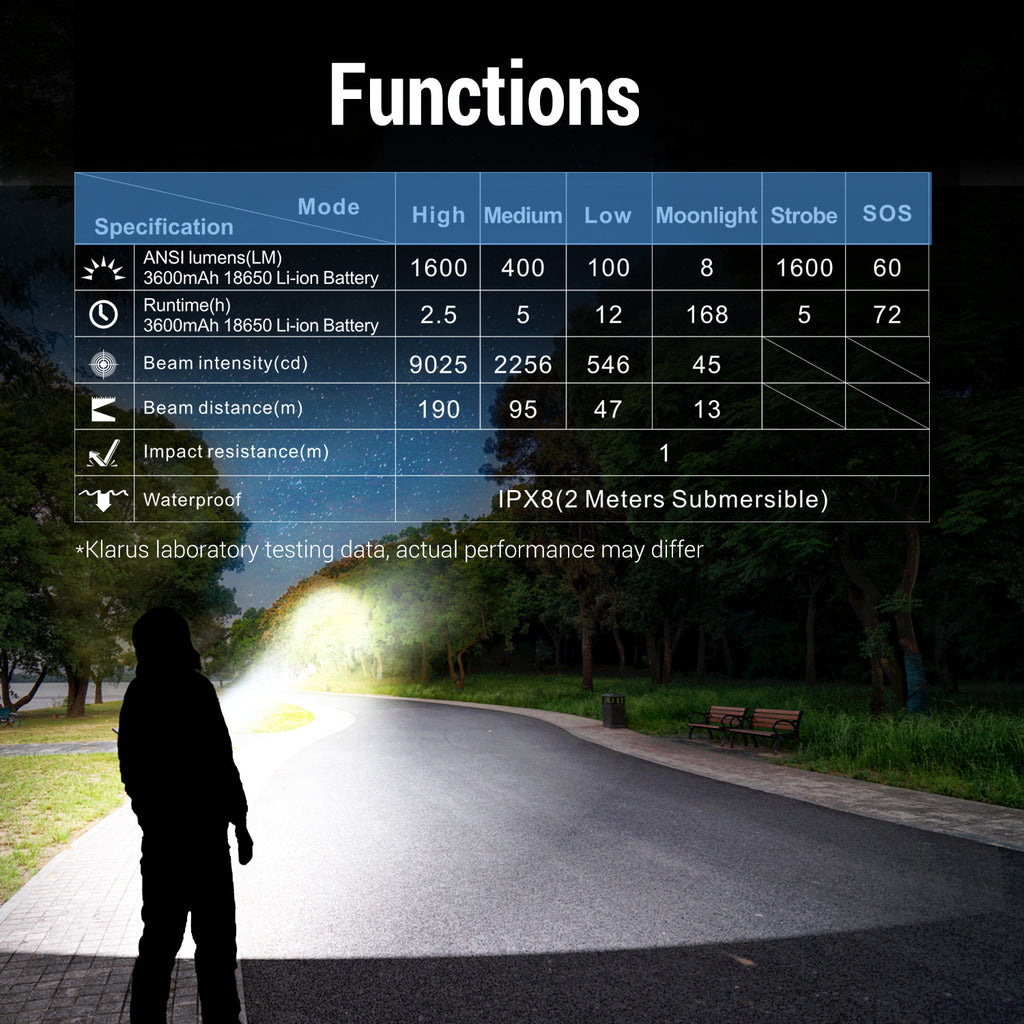 Klarus E2 Rechargeable Every Day Carrying Flashlight
Compact and Powerful Survival Light
4 lighting modes: High/Medium/Low/Moonlight
2 flashing Lightings: Strobe/SOS
Output: maximum 1600 lumens, Max 168 hours run time in moonlight level.
High (1600 lumens) - 2.5 hour runtime
Medium (400 lumens) - 5 hour runtime
Low (100 lumens) - 12 hour runtime
Moonlight (8 lumen) - 168 hour runtime
Strobe (1600 lumens) - 5 hour runtime
SOS (60 lumens) - 72 hour runtime
Specifications
Model:E2
Body color: Black
LED:CREE XHP35 HI
Lens:Ultrathin dual-effect lens (Spotlight +Floodlight)
Voltage: 2.5V - 4.2V
Charging Current: 1A
Charging Time: 4hr. Approx.
Battery: 1x 3600mAh rechargeable 18650 battery(Klarus customized Li-ion battery)
*Not compatible with CR123A or non-approved 18650 batteries
The 5th generation Tail Dual-Switch
This Tail Dual-Switch has a more elegant appearance, while maintaining the convenience of the previous generation of sub-switches, and is more suitable for civilian use.
The 5th generation Tail Dual-Switch is not so sensitive thatt will happenly active in your purses or bags, but it can still give you the instant burst of energy.
Battery Indicator
The battery indicator is located on the head, you can know the remaining battery and make the plan to charge.
Indicator glowing green (Battery remaining >=70 % ),
Indicator glowing orange(Battery remaining 30-70%),
Indicator glowing red (Battery remaining <=30%),
Indicator flashing red (less than 10% capacity remaining).
Compact EDC Flashlight
E2 has a more competitive length with the other 18650 flashlights, it also has an direct charge function.
it can be easily carried in the handbag or purse, to be a reliable edc and security flashlight for ladies.
Waterproof Flashlight
This flashlight has the waterproof rating of IPX8 Rating, which can be immersed 2 meters under water for more than 30 minutes.
It's suitable for use in even most severe weather conditions.
Dimensions
Length: 4.54in
Head Diameter: 0.91in
Body Diameter: 0.9in
Weight: 2.03oz(without battery)
Package List
1 x E2 18650 Flashlight
1 x Klarus Rechargeable 3600mAh 18650 Battery
1 x USB Charging Cable
1 x E2 Holster/ 1 x Klarus Lanyard
1 x Pocket Clip/ 1 x Spare O-ring
1 x User Manual

Simple..but great!!
Very handy light to have around, great battery life.
Return Policy
Please contact us via email or phone for a return authorization number before sending any items back whether it is for repair, exchange, or a return. Return shipments that do not include an RMA number will be returned to sender. Returns are accepted in their original state new and unused within 30 days upon the customer receiving that item. If there was a shipping charge, it will not be refunded unless the items that were received are either wrong or defective. All original accessories, packaging, etc. must be included in new condition with a return or exchange. If the item shows any signs of wear or use, a refund will not be issued and the item will be sent back to you. All Items must be shipped to us within one week from receiving the return authorization number from us. Processing returns and exchanges take 3-5 business days. If it is an exchange, the customer will receive an additional tracking number for that item via the email that was used for the order after it has been processed. *All orders that need to be cancelled before they are shipped or are not wanted by the customer when received due to personal reasons will be charged a 3% fee upon return.
Simple..but great!!
Very handy light to have around, great battery life.