KLARUS G15 4000 Lumens Ultra-Bright Rechargeable EDC Flashlight
47 Low stock (27 pieces remain) will be shipped within 12 hours
Description KLARUS G15 is a high-performence flashlight with high-value appearance design. The large-capacity 21700 battery can last for 200 hours, and it can be used for a longer time on...
Description
KLARUS G15 is a high-performence flashlight with high-value appearance design. The large-capacity 21700 battery can last for 200 hours, and it can be used for a longer time on a single charge, saving you time. Using the top American CREE XHP70.2 LED, the maximum brightness can reach 4000 lumens, and the range of lighting is wider. 8 modes can be used for switching to meet the brightness requirements of different scenes. The SOS/Strobe/Beacon function allows you to increase a lot of safety in the dark. If you are going to travel, the G15 glare flashlight must be a best partner.

【High Lumens Camping Flashlight】This flashlight utilizes a CREE XHP70.2 LED, max output 4000 lumens, max beam distance 616feet(188 meters). High power output, gives you the brightest and reliable night view.
【Compact Size with Lightweight】4.75in body length, even 15% smaller than ordinary 18650 flashlights, G15 can easily pack hidden in your pocket. 5-ounce weight body(Include battery), carry without feeling.
【8 Lighting Modes】5 brightness levels: Turbo/High/Mid/Low/Moonlight. 3 emergency modes: Strobe/ Beacon/ SOS.
【Easy and Convenient Operation】 One click on/off, hold to switch between Low/ Mid/ High. Double click to activate turbo, and triple-click to access the Strobe/ Beacon/SOS mode. When the light is off, press and hold the side switch to access the moonlight mode. Side switch could be lockout preventing accidental activation in your pocket or packs.
【Large Capacity Battery and 2A Fast Recharging】The flashlight is powered by a 5000mAh 21700 Li-ion battery, can support a maximum of 200 hours or 40 days(5 hours/day) runtime. With 2A high current USB charging port, fast and convenient.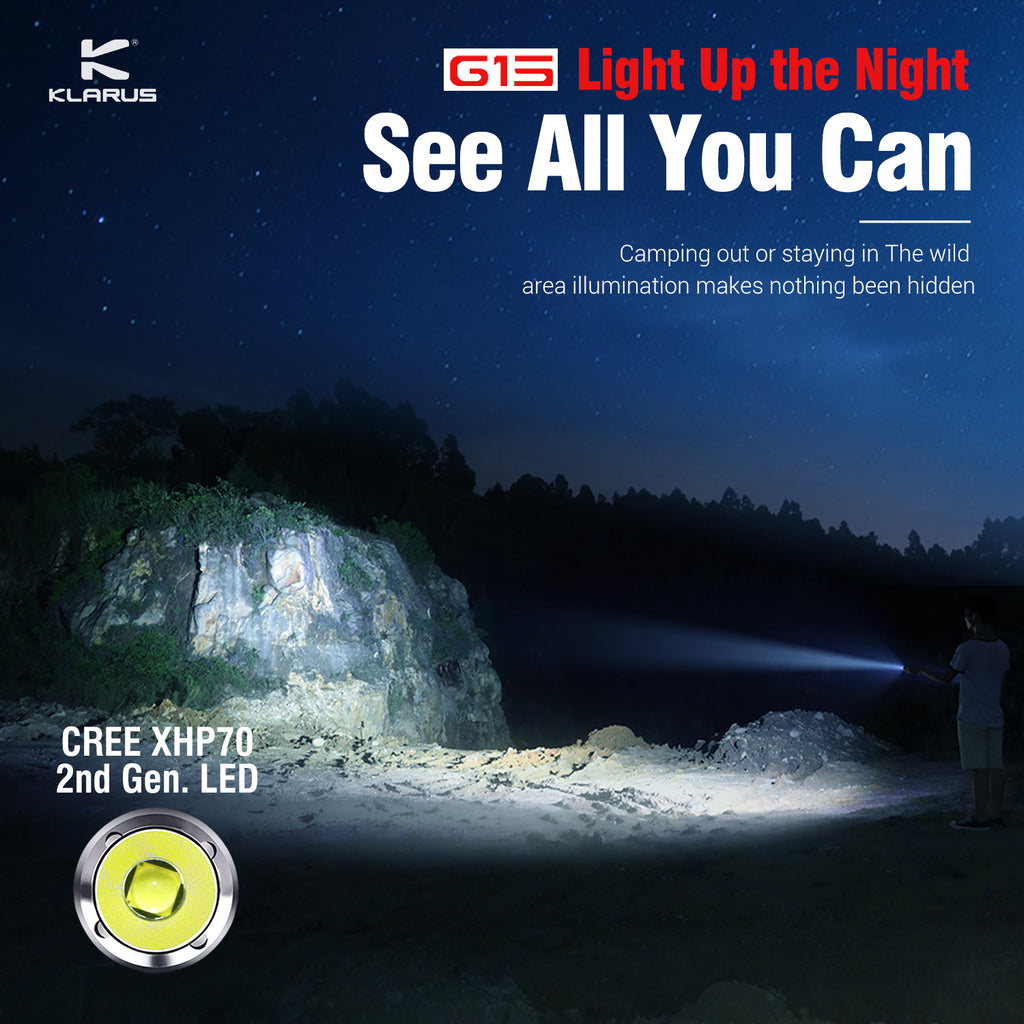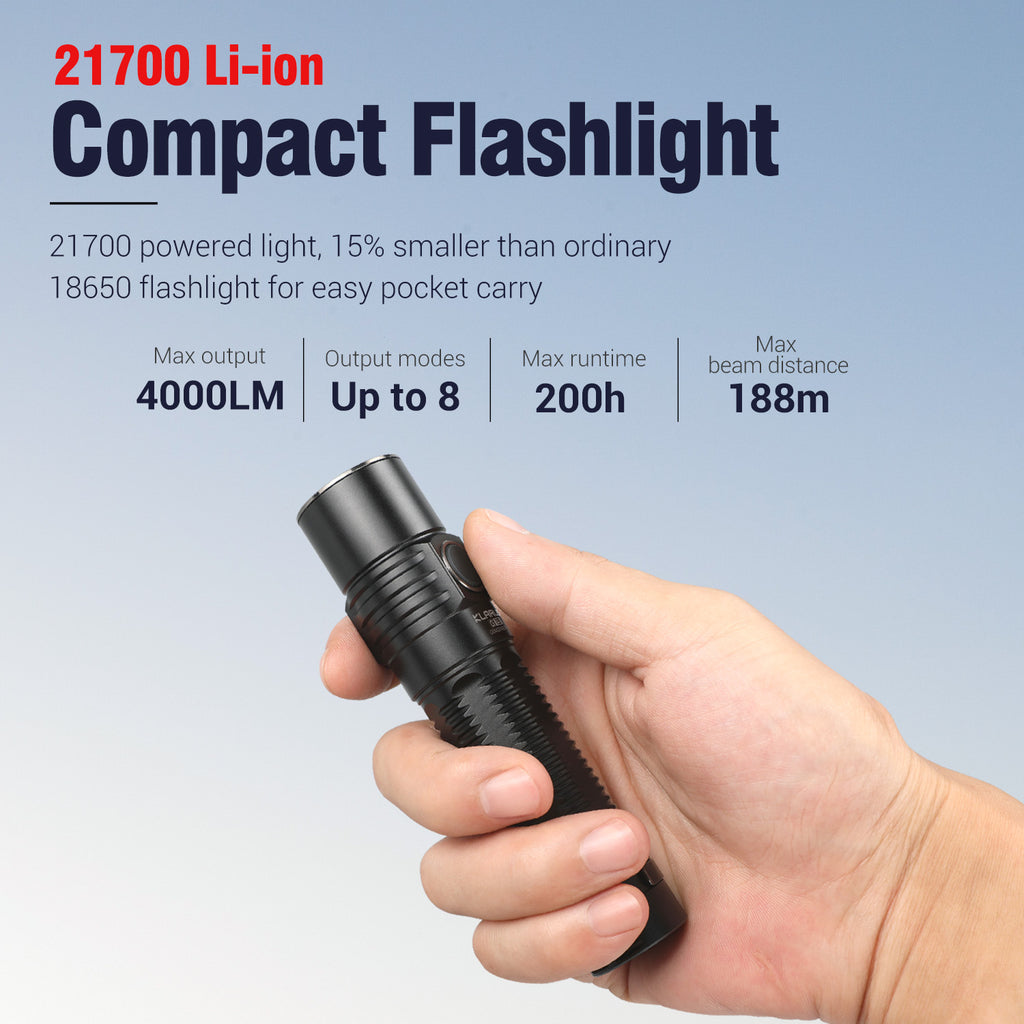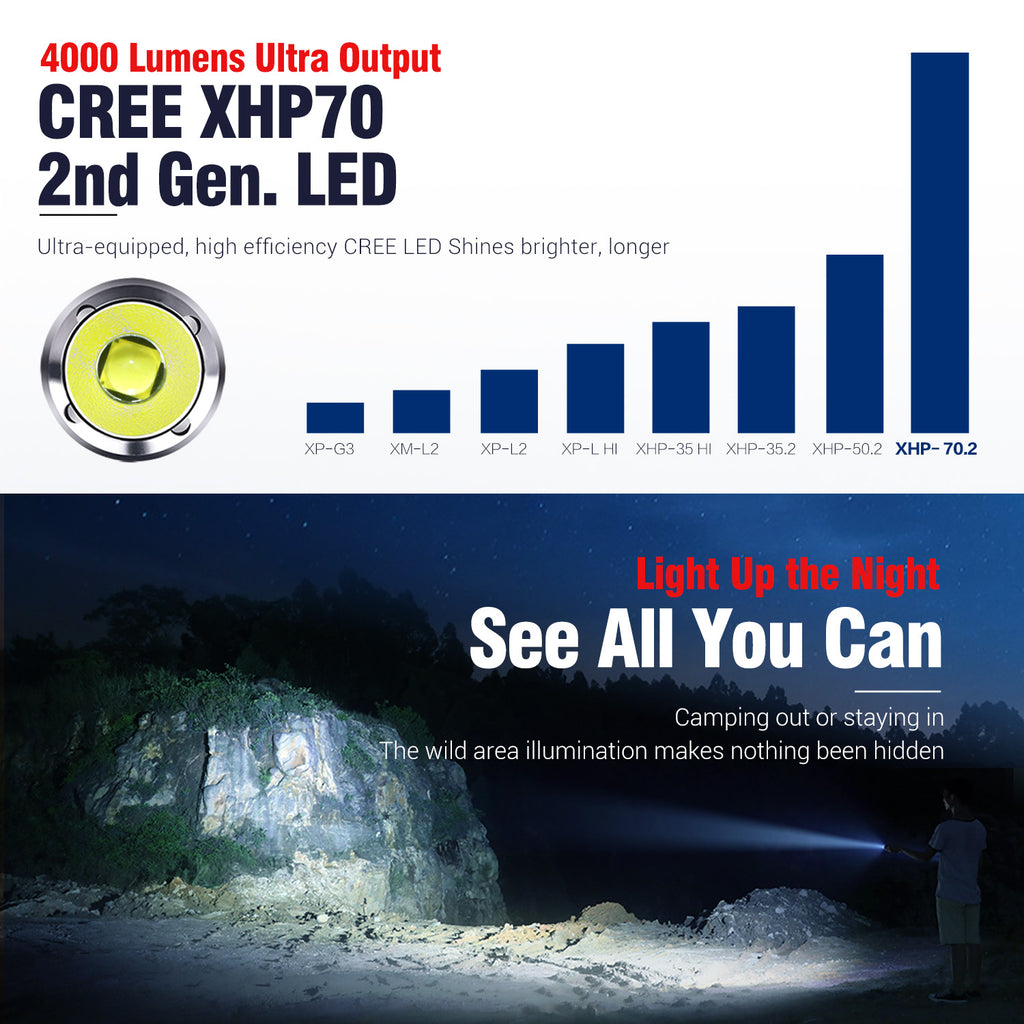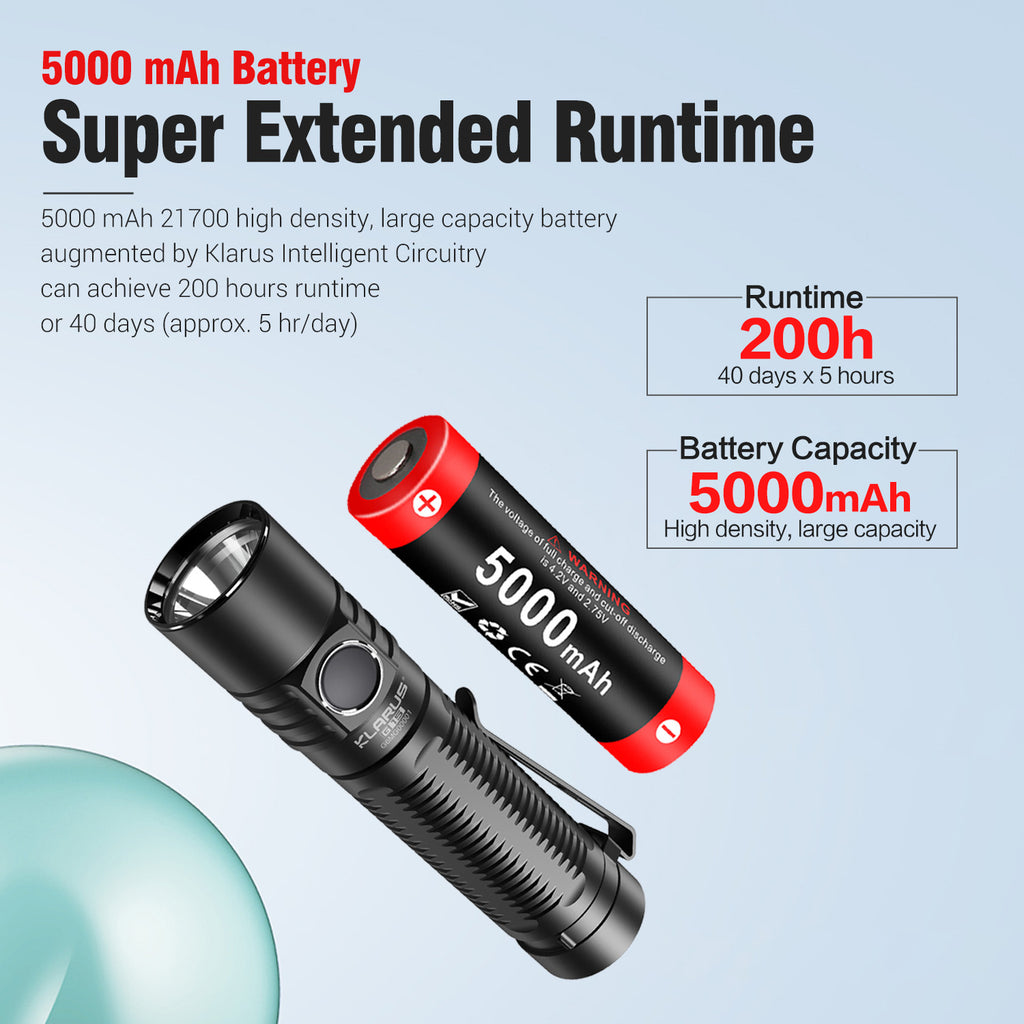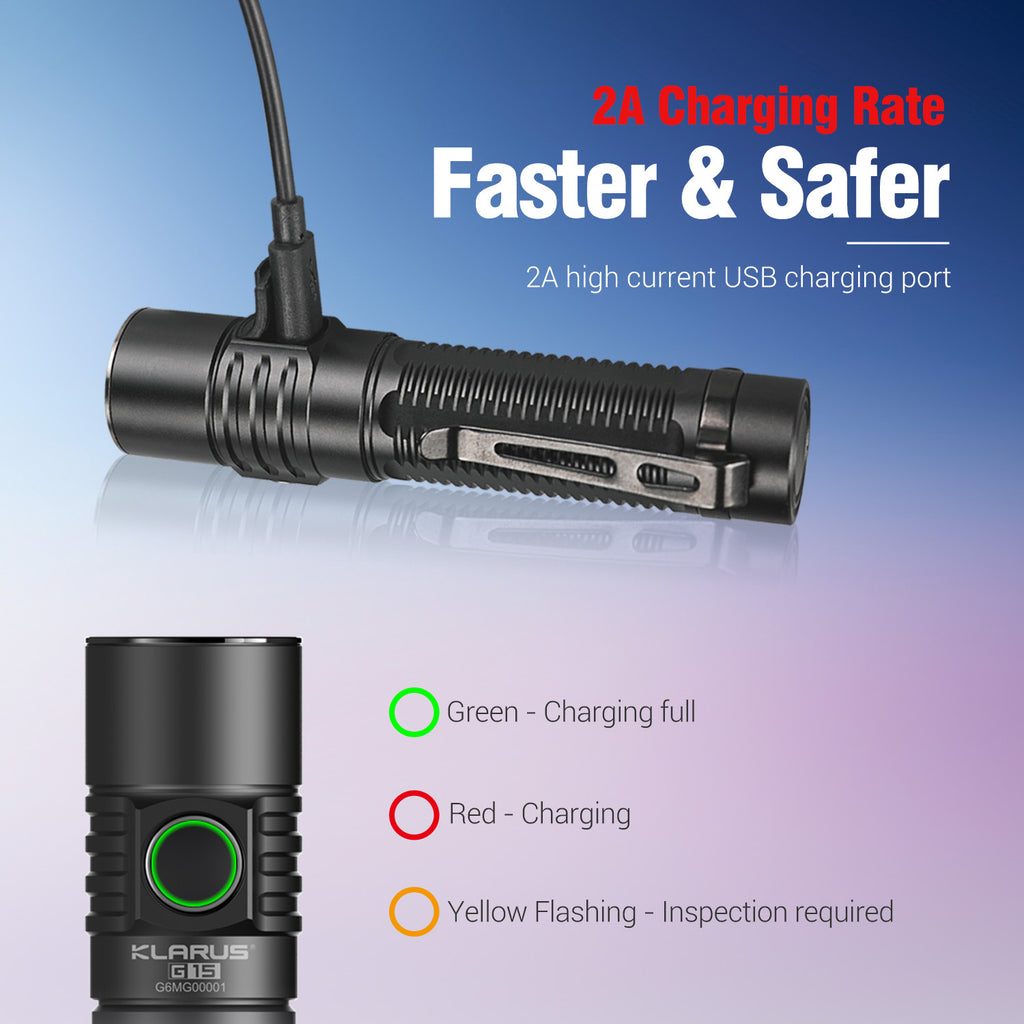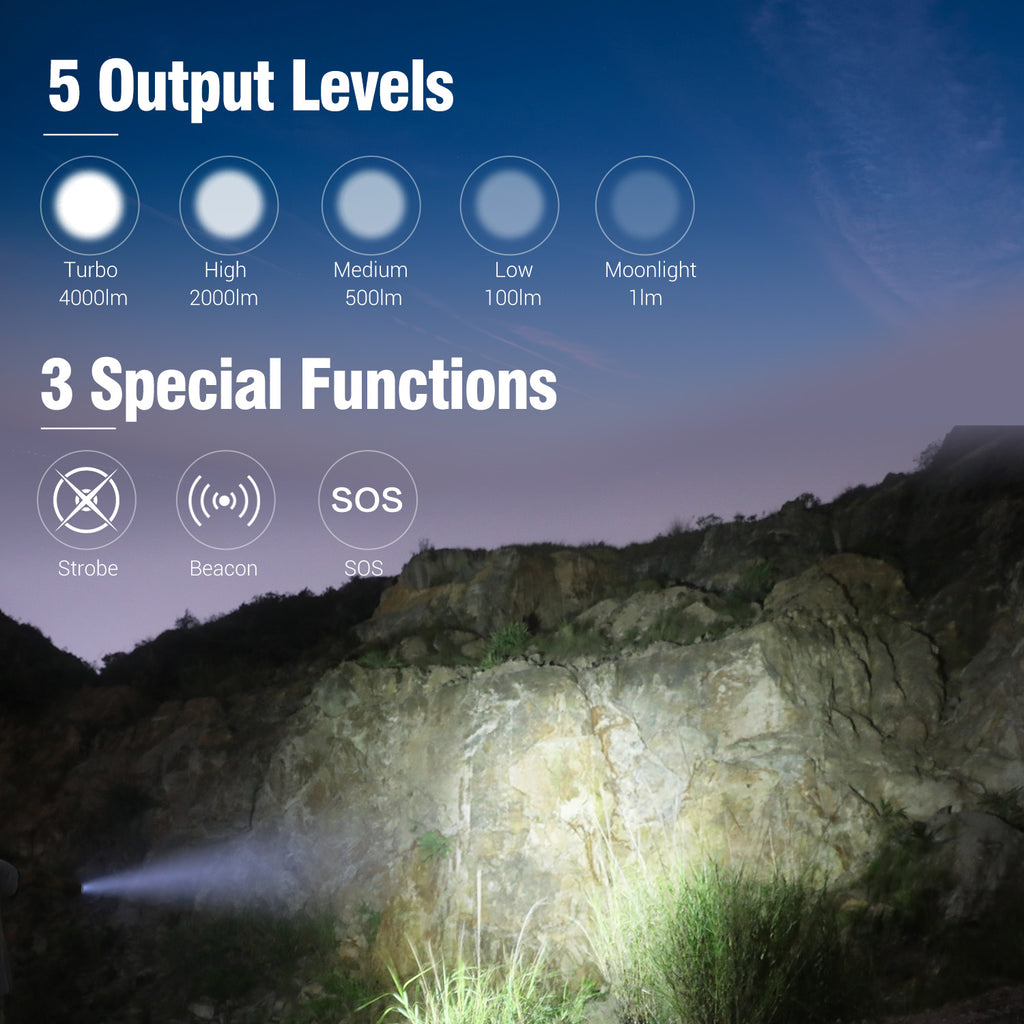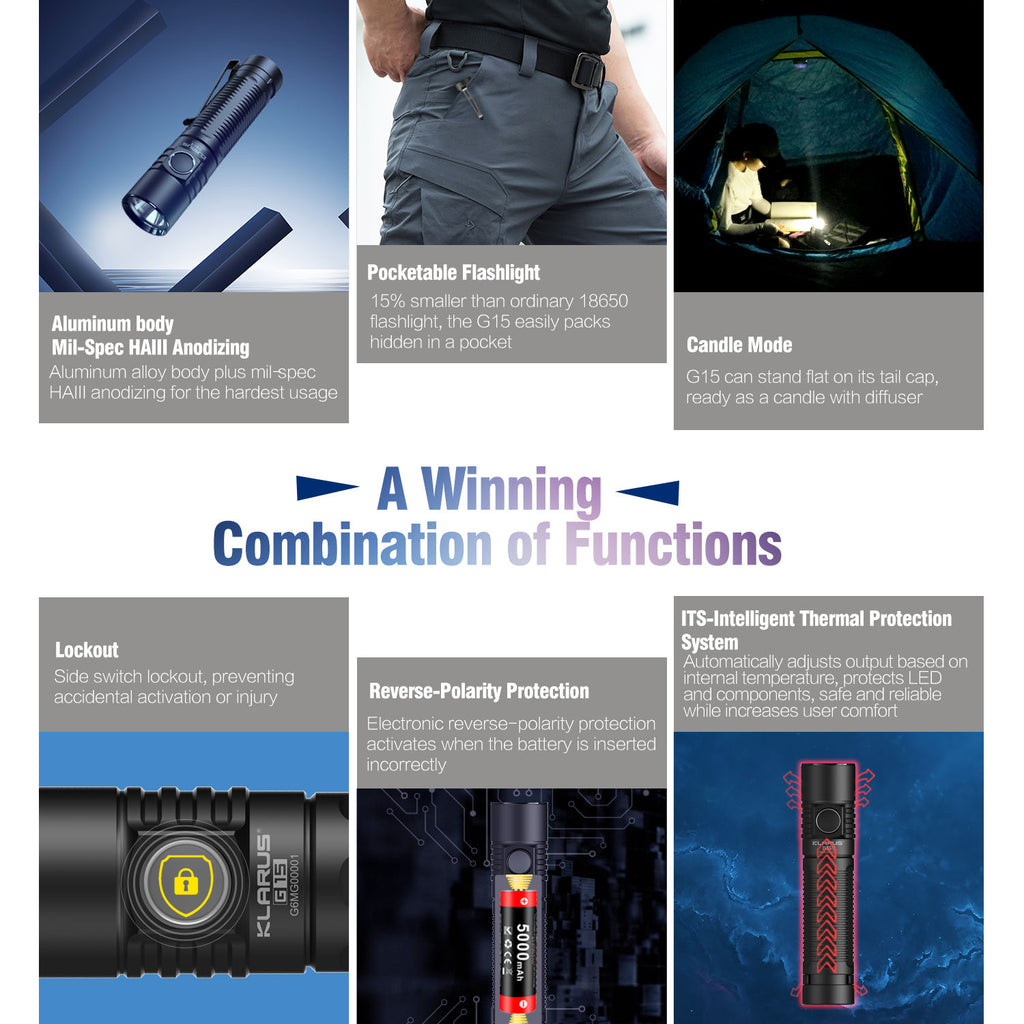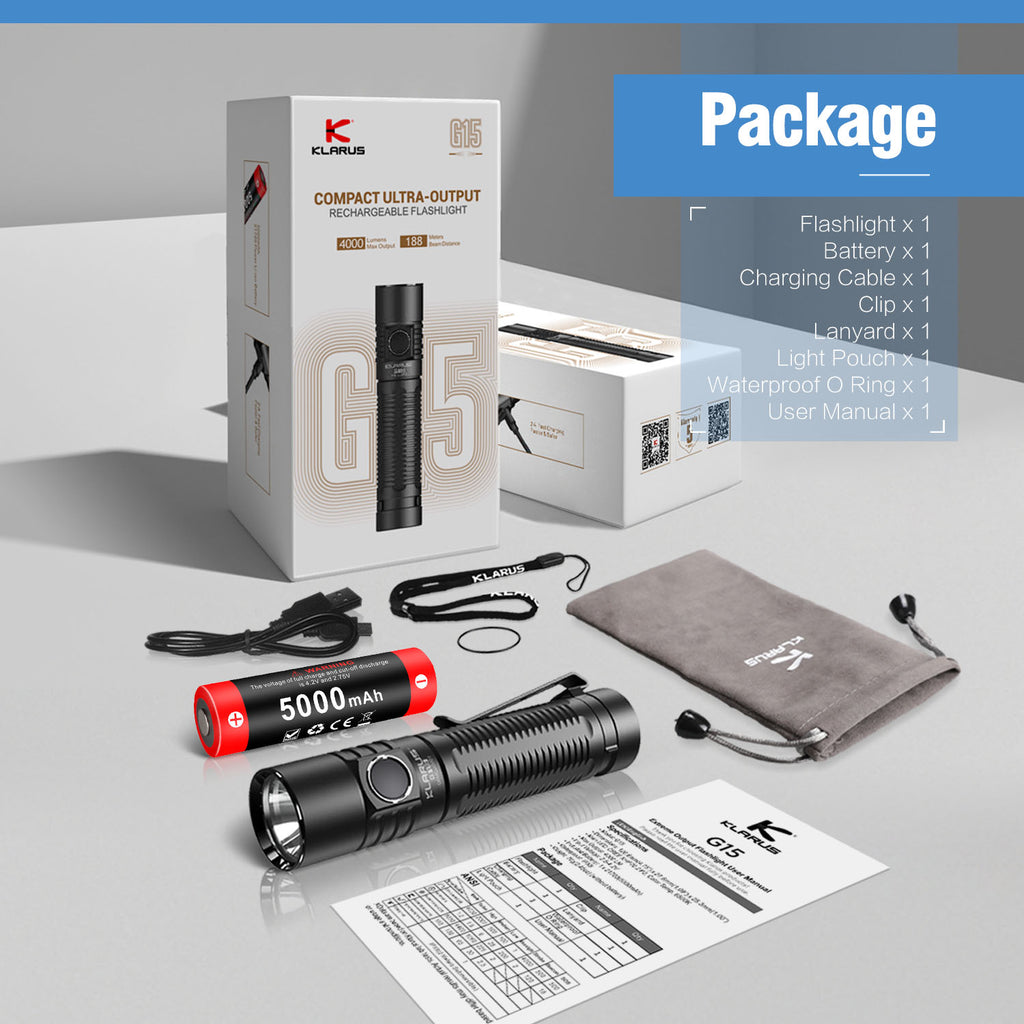 Features:
Equipped with CREE XHP 70.2 P2 LED,color temperature 6500K(Cold White), up to 4000 lumens, maximum Beam reach 188M.
Polarity Protection avoid damage from incorrect battery orientation.
Direct Micro-USB 2A fast charging, convenient and fast.
Compatible Batteries: 1x 21700 battery with PCB protection
Reflector: Orange Peel reflector
Lens: Toughened ultra-clear glass with anti-corrosion AR coating
Switch type: Side Switch
Output:
Turbo (4000 lumens) - 5s(4000 lumens)+1.5 hour (2000 lumens) runtime
High (2000 lumens) - 1.5 hour runtime
Medium (500 lumens) - 6 hour runtime
Low (100 lumens) - 28 hour runtime
Moonlight (1 lumen) - 200 hour runtime
Strobe (4000 lumens) - 2 hour runtime
Beacon(500 lumens) - 120 hour runtime
SOS (500 lumens) - 18 hour runtime
IPX8 Waterproof Rating
Suitable for use in even most severe weather conditions.
The IPX8 waterproof level can bear up to 2 meters.
Compact Size and Lightweight
Main Body is made of Aircraft-grade aluminum 6061-T6, surface is Type III hard-anodized, hard structure and durability.
Head: 1.09in (27.6mm)
Body: 1.0in (25.3mm)
Length: 4.75in (120.6mm)
Net weight: 2.47oz(70g) (Excluding battery)
Package List
1 x G15 Flashlight
1 x Klarus 5000mAh IMR 21700 Battery
1 x USB Charging Cable
1 x Klarus Lanyard/ 1 x Light Pouch
1 x Pocket Clip/ 1 x Spare O-ring
1 x Manual
Compacte, efficace, complete mais...
Très bien conçue. Je préfèrerais cependant que sur les 5 niveaux de puissance, 4 soient de puissance modérée et utilisables effectivement ( en tenant le niveau de lumen choisi) et 1 seul niveau de forte puissance temporaire. [ au lieu de 3 + 2 ]. J'aime :
- très compacte pour 1 '21700'
- 1 lumen
- mémoire dernière puissance
- verrouillage 'off'
- témoin niveau de charge (vert /orange /rouge/ clignotant )
Chris
Gaume
Return Policy
Please contact us via email or phone for a return authorization number before sending any items back whether it is for repair, exchange, or a return. Return shipments that do not include an RMA number will be returned to sender. Returns are accepted in their original state new and unused within 30 days upon the customer receiving that item. If there was a shipping charge, it will not be refunded unless the items that were received are either wrong or defective. All original accessories, packaging, etc. must be included in new condition with a return or exchange. If the item shows any signs of wear or use, a refund will not be issued and the item will be sent back to you. All Items must be shipped to us within one week from receiving the return authorization number from us. Processing returns and exchanges take 3-5 business days. If it is an exchange, the customer will receive an additional tracking number for that item via the email that was used for the order after it has been processed. *All orders that need to be cancelled before they are shipped or are not wanted by the customer when received due to personal reasons will be charged a 3% fee upon return.
Compacte, efficace, complete mais...
Très bien conçue. Je préfèrerais cependant que sur les 5 niveaux de puissance, 4 soient de puissance modérée et utilisables effectivement ( en tenant le niveau de lumen choisi) et 1 seul niveau de forte puissance temporaire. [ au lieu de 3 + 2 ]. J'aime :
- très compacte pour 1 '21700'
- 1 lumen
- mémoire dernière puissance
- verrouillage 'off'
- témoin niveau de charge (vert /orange /rouge/ clignotant )
Chris
Gaume