KLARUS GL1 600 Lumens Rail Mounted Compact Pistol Light
986 Low stock (27 pieces remain) will be shipped within 12 hours
DescriptionKeritz GL1 is the mini detective in the field of PL lights.. This PL light adopts a simple and compact design, which is perfectly compatible with most pistols and can also...
Description
Keritz GL1 is the mini detective in the field of PL lights.. This PL light adopts a simple and compact design, which is perfectly compatible with most pistols and can also be matched with more holsters. With a maximum output of 600 lumens and a range of 83 meters, you can easily find your target in the dark. The switches on both sides can be opened/closed with a light touch, simple application, convenient operation, and no accidental touch. It has a fast double-click flash mode. The light comes with a Glock track, and it also comes with a 1913 track adapter, which can be compatible with 90% of the tracks on the market. The best choice for self-defense in the dark.
600 lumens tactical flashlight with 83 meters of throw, 1 hour runtime. Press-switch control, one-touch high, double click strobe, quick reaction to changing tactical requirements.
Compact and lightweight, streamlined design, no protruding parts. Item dimensions is 2.20 length x 1.10 width x 1.24 high in inches, weight 2.13oz.
One-handed snap-on and tighten interface,tool-less secure installation.
Slide the rail adapter back and forth freely to fix the light in the desired position for your firearm. Compatible with MIL-STD-1913, Glock rails, and Weaver rails . (Adapter included in the package)
Aerospace Aluminum alloy body, strong and durable. Convenient charging by connecting the light directly with a USB cable.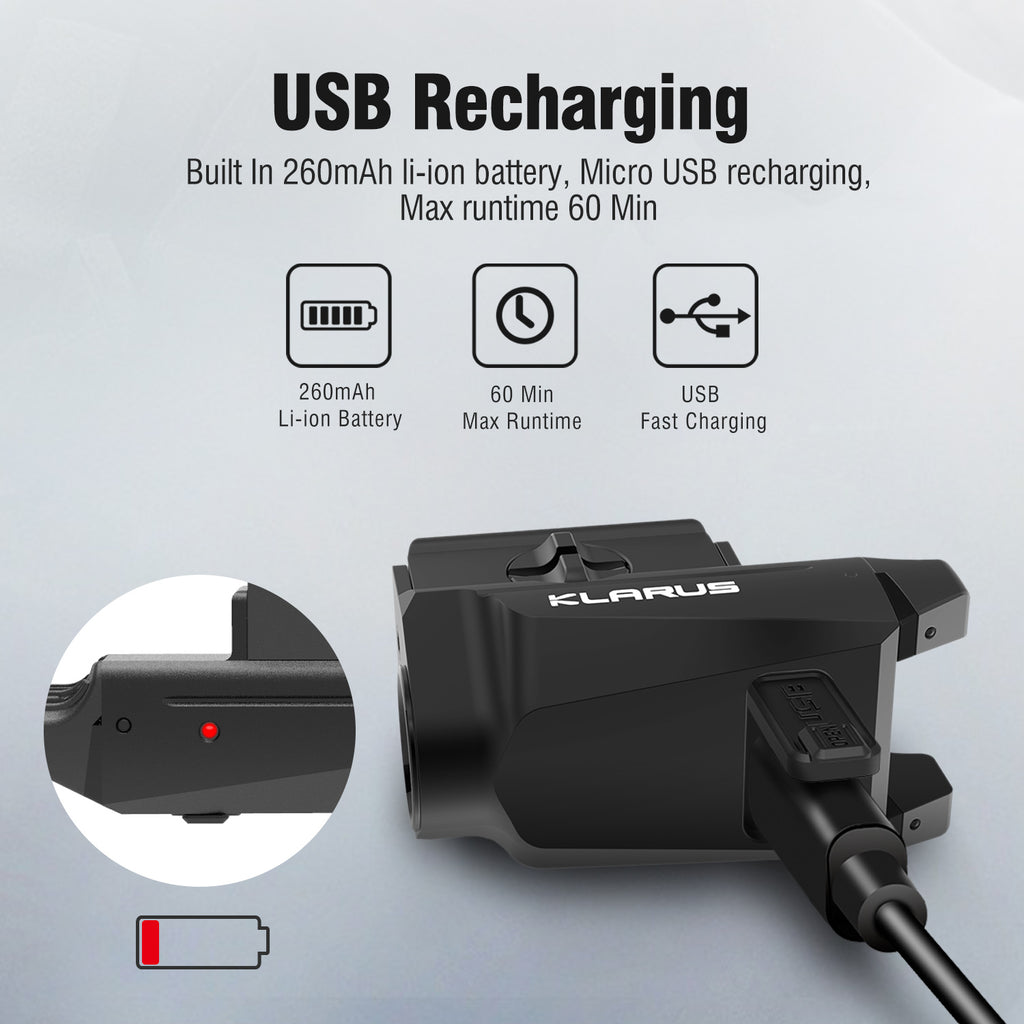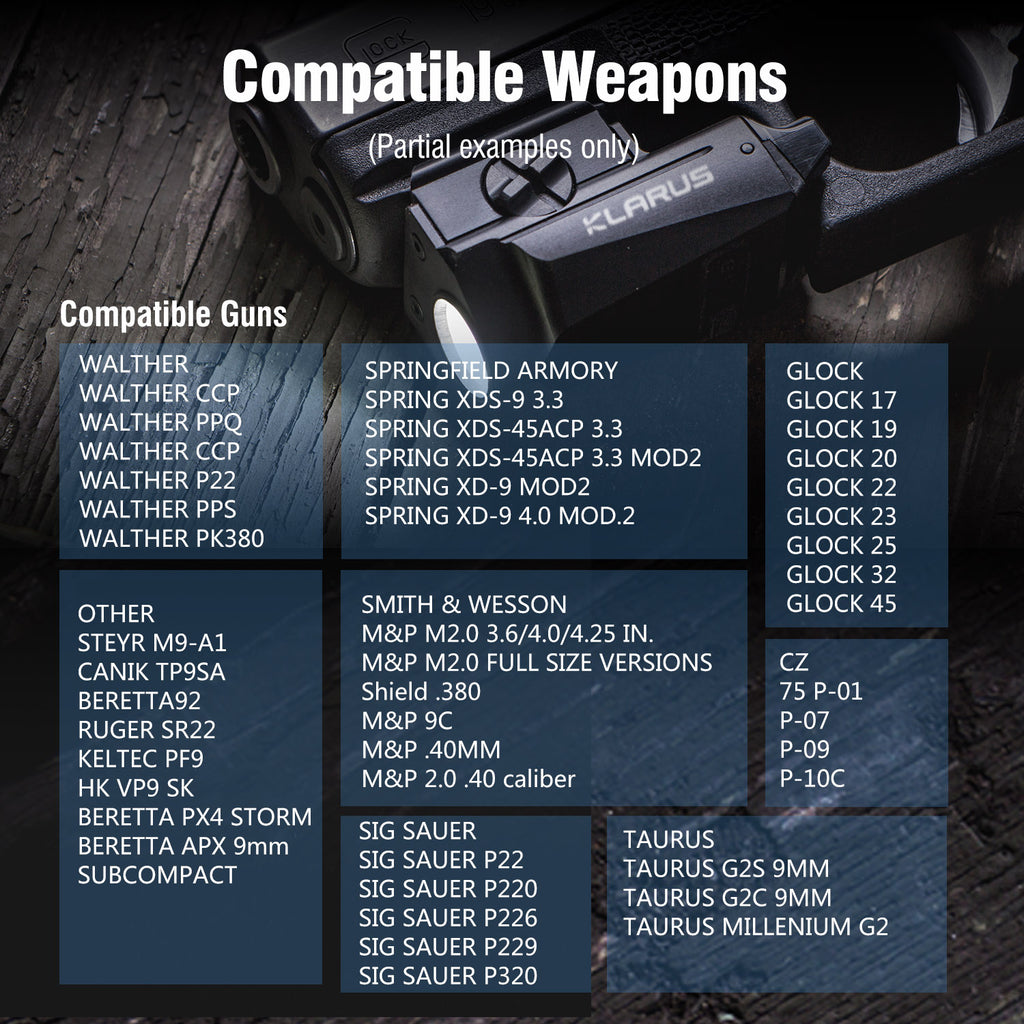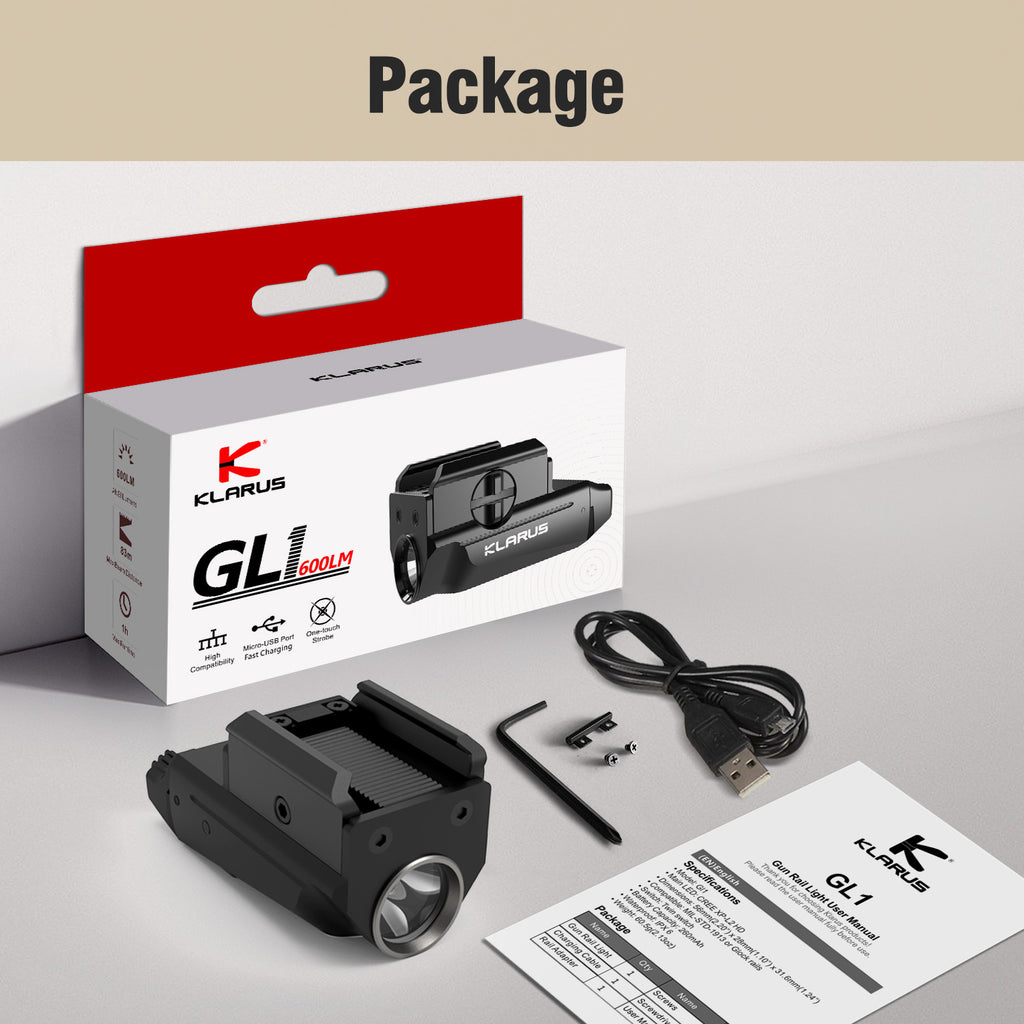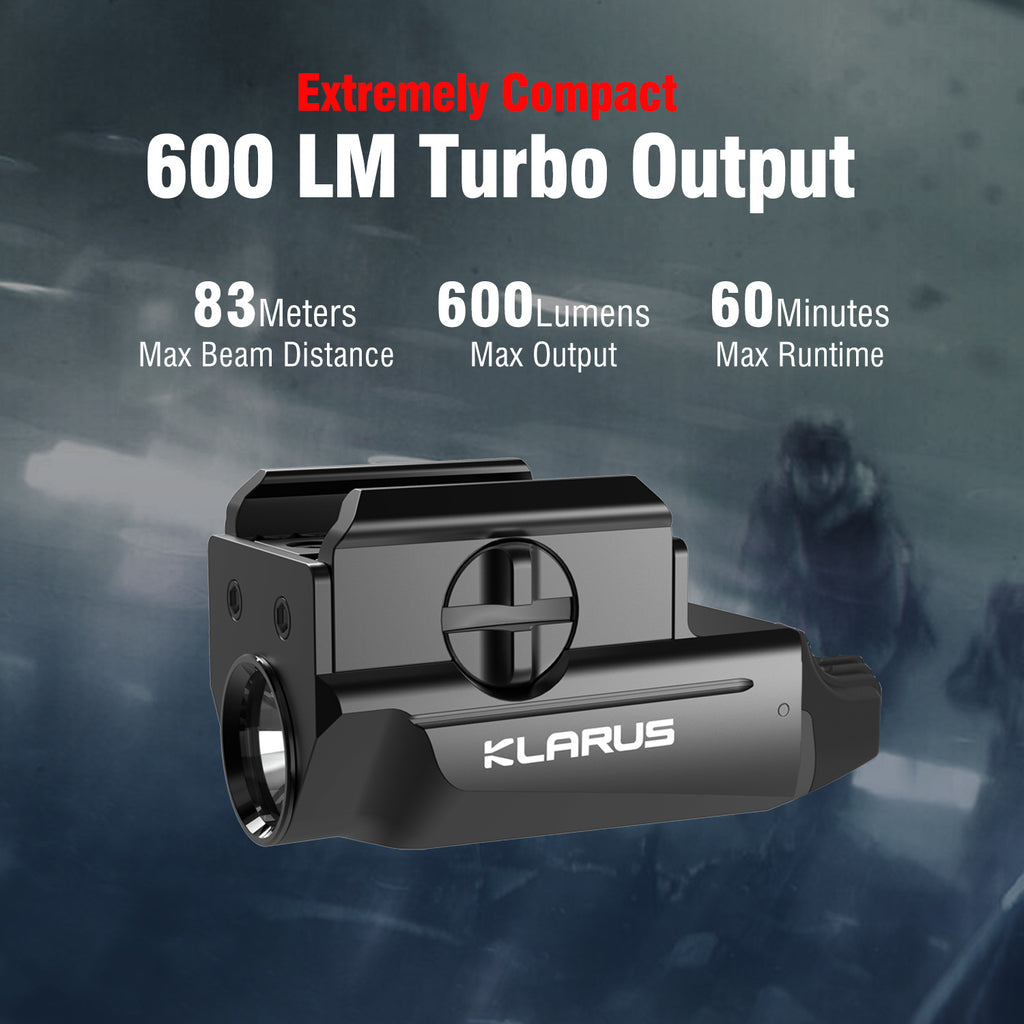 Specifications:
3 output modes: momentary on, constant on, strobe.
High: 600 LM ~70 LM ---1min+60 min
Strobe: 600 LM ---0.5h
Light Source: Cree XP-L2 HD
Body Material: AL6061 Aluminum Alloy
Waterproof Rating: IPX6
Impact Resistance(m):1 m
Easy operation
On/Off: Single click either switch for constant on,single click again to turn the light off.
Momentary On: Press and hold down either switch for momentary on. The light will stay on until the switch is released.
Strobe: Double click either switch for constant strobe on, single click to turn the light off
Install Procedure
1. Use your thumb and index to loosen the screw counterclockwise.
2. Push the screw to open the clamp.
3. Put the adapter into the guide rail slot, and then loosen the clamp to let it tighten naturally.
4. Gently press the screw and move the light back and forth to the position you want to place, and then clockwise tighten the screws.
Easy installed 1913 adapter
The Glock adapter is already installed, which can be immedately used on all Glock sized rails.
To use it on 1913 rails, the user must screw on the 1913 adapter by using tools provided in the package.
Aerospace Aluminum Alloy Body
GL1 body is using T 6061 Aerospace Aluminum alloy, Mil-spec hard anodized(HA III) Strong and anti-abrasive.
Dimensions
Length: 2.20in / 56mm
Width: 1.10in / 28mm
Height: 1.24in / 31.6mm
Weight: 2.13oz / 60.5g(including battery)
Package Content
1x GL1
1x 1913 Rail Adapter
2x Allen Screw
1x Screwdriver
1x Charging cable
1xUser Manual


Return Policy
Please contact us via email or phone for a return authorization number before sending any items back whether it is for repair, exchange, or a return. Return shipments that do not include an RMA number will be returned to sender. Returns are accepted in their original state new and unused within 30 days upon the customer receiving that item. If there was a shipping charge, it will not be refunded unless the items that were received are either wrong or defective. All original accessories, packaging, etc. must be included in new condition with a return or exchange. If the item shows any signs of wear or use, a refund will not be issued and the item will be sent back to you. All Items must be shipped to us within one week from receiving the return authorization number from us. Processing returns and exchanges take 3-5 business days. If it is an exchange, the customer will receive an additional tracking number for that item via the email that was used for the order after it has been processed. *All orders that need to be cancelled before they are shipped or are not wanted by the customer when received due to personal reasons will be charged a 3% fee upon return.